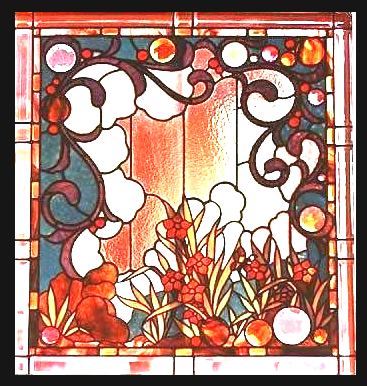 This kitchen window graces an older home in Denver, Colorado. Surrounded by a border of rectangular bevels and sporting a potpourri of round bevels and colored faceted glass "jewels" in it's interior, this art nouveau stained glass is impressive on many levels.

This artwork utilizeds both the lead came and the copper foil methods of securing the glass in place. The lead came enhances the geometry and smoothe lines of the upper nouveau desig while the copper foil adds a more natural feel to the floral design at the bottom.

I made this window in 1974. That is one long time ago! This is probably the oldest window on my web site.
Go directly to another fantasy artwork here.
Return to the Gallery